2016-12-28
25 years pass since occupation of Azerbaijan's Khankendi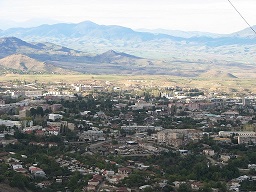 Twenty-five years pass today since the Armenian occupation ofKhankendi City and surrounding districts.The occupation of Khankendi ended on December 28, 1991 with the seizure of Karkijahan.Before the occupation, Karkijahan was protected by self-defense units formed from local Azerbaijanis, the newly established police and a group of soldiers of the National Army.
When the Armenian army started offensive of Karkijahan using heavy weapons, the self-defense units had to retreat because of the inequality of the forces.Civilians were taken out of Karkijahan as the self-defense forces managed to hold back Armenians for a while.Karkijahan's population was 1,796 people before the occupation. Two secondary schools, a kindergarten, a library, a club, an automatic telephone exchange, 10 shops, a hospital, five production and other facilities were destroyed in Karkijahan as a result of the occupation.
Thirty-four people, including three women and two children were killed, 150 people were injured in the battles for Karkijahan and surrounding areas.The conflict between the two South Caucasus countries began in 1988 when Armenia made territorial claims against Azerbaijan. As a result of the ensuing war, in 1992 Armenian armed forces occupied 20 percent of Azerbaijan, including the Nagorno-Karabakh region and seven surrounding districts. The 1994 ceasefire agreement was followed by peace negotiations.Armenia has not yet implemented four UN Security Council resolutions on withdrawal of its armed forces from the Nagorno-Karabakh and the surrounding districts.